Join NowhereLand!
McCartney Town
Lennon Land
Goto Starr City
Harrisonville
Citizens Only
See the Webrings We've Joined
Job Openings
Suburbs
View our NEW guestbook!
1st Birthday Celebration!!
NWL Bank
Sign our NEW guestbook!
CD/Tape Shop!
Travel Agency
Movie Shop
Awards
Bookshop!
Memorial to Linda
ThePaperbackWriterTimesNewsStand
NWL Lottery
Advertise your Beatles site or shop here! Click here for more details!

Our security guard, Johnny!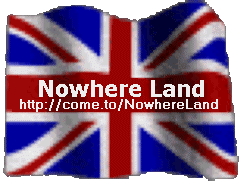 Welcome to the new and improved NOWHERE LAND
If this is your first time here, check our FAQ's page before attempting to explore this Beatle-ful country!(I know, bad joke..)










Keep Nowhere Land free Support our sponsors!